If you like sea shanties and the open ocean then this is for you 🙂
I'm a DWP call handler and have no time to care about your disability claim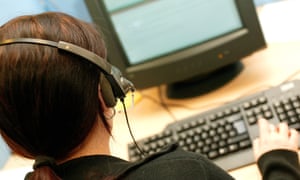 This morning I spoke to a cancer patient, a woman with kidney failure, and a young man who had just lost the mother of his children. Each of them thought I was trying to help them. I wasn't really though, because helping them would take longer than 23 minutes.
Twenty three minutes is how long it should take me to help you make a benefit claim, according to my bosses. I work in a Department for Work and Pensions contact centre and take calls from people who are at their lowest point.
These are people who need my help to navigate the complex claims system so that they can get a meagre payout. They're often vulnerable and desperate by the time they reach me. My job is to fill in a new claim form for employment and support allowance based on the information people give me and then send that form off to the benefit centre where the claim is processed.
The headset beeps and I launch into my scripted greeting. The caller wants to tell me about her recent cancer diagnosis, what type it is, what the treatment will be, the reasons her employer has given for not offering sick pay. But I don't have time to listen to her story. "I'm afraid we need to stick to yes or no answers" I say, and I feel horrible because this poor woman wants to tell someone about this huge awful thing that's happening to her, she wants a friendly listener to make her feel reassured that she will at least get financial help.
But for me, the only thing that's really important is how long each call takes. We are measured on our average handling time (known as AHT) and if this slips beyond 23 minutes per call we face performance management, which is code for "you'll get in trouble". This involves anything from stern words and increased micro-management from your line manager right up to written warnings and dismissal.
full story at:The Guardian
PRISON SENTENCES FOR MAURITANIAN ANTI-SLAVERY ACTIVISTS A 'DEVASTATING BLOW' FOR THE MOVEMENT
In Mauritania, despite the government reporting otherwise, slavery still exists. Haratine people – a group known to be the descendants of slaves – even if no longer in slavery, face widespread discrimination.
Anti-Slavery International said today that imprisoning anti-slavery activists is a 'devastating blow' for the Mauritanian human rights movement, and exposes the Government's pledges to address slavery as a farce.
Thirteen leading anti-slavery activists from the Initiative for the Resurgence of the Abolitionist Movement (IRA) were sentenced to up to 15 years in prison yesterday. They were charged after a protest in late June in an impoverished neighbourhood against the forced relocation of the community in preparation for the Arab League Summit. However, none of the thirteen activists, nor IRA, had organised the protest or taken part in it.
Sarah Mathewson, Africa Programme Manager at Anti-Slavery International, said:
"The sentences are a devastating blow to the Mauritanian anti-slavery movement. They are clearly being targeted by the Government for their work to expose and denounce slavery, still commonplace in the country.
"The charges are highly politically motivated and expose the Government's pledges to address slavery as a farce.
"It is outrageous that anti-slavery activists are targeted and prosecuted for their work, while slave-owners perpetrate crimes with impunity.
"The international community must join together to call for the unconditional release of the activists and dropping all the charges."

Background:
Mauritania is one of the last countries where people are still born into slavery and literally owned by their masters, facing a lifetime of abuse and forced labour. They can be bought and sold, given as gifts and are at complete mercy of their masters. Women are commonly raped and forced to bear their masters' children, who in turn also become their slaves. Haratine people –a group known to be the descendants of slaves – even if no longer in slavery, face widespread discrimination.
Mauritania has long been under national and international pressure to enforce the law, but most anti-slavery initiatives so far have proved to be empty promises.
Although last year's new anti-slavery law offered some hope, the Government continues to target anti-slavery activists and even refuses to acknowledge the existence of slavery in the country.
To date Anti-Slavery International and its national partners achieved the only two prosecutions for slavery in the country's history, but the slave-owners received very lenient sentences. At least 30 other cases have remained pending for years in courts or prosecutors' offices.
Note to Editors:
For more information and to arrange interviews please contact Anti-Slavery International Press and Digital Media Manager Jakub Sobik on 07789 936 383 or at j.sobik@antislavery.org.
source:Anti-Slavery
Hollywood Blacklist Penelope Cruz Over Her Support Of Palestine
Actress Penelope Cruz has been blacklisted by the Hollywood elite over a row surrounding her support of Palestine.
 Crus and husband Javier Bardem are being snubbed by Hollywood producers following a letter in which they pledged to expose the brutal Israeli regime and its genocide against the Palestinian people.
Ibtimes.co.uk reports:
The letter accused Israel of "advancing on Palestinian territories instead of withdrawing to the 1967 borders.
"Gaza is living through horror… while the international community does nothing."
 The Spanish letter was signed by 100 leading figures in the film industry, including director Pedro Almodovar.
One top producer who has worked with Cruz says he privately has vowed not to hire her again, according to the Hollywood Reporter.
 Another top Hollywood executive also privately expressed his disapproval, saying he's "furious at Javier and Penelope" and wasn't sure about working with the Spanish couple again.
Relativity Media chief executive Ryan Kavanaugh was the only studio head willing to go public with his views: "As the grandson of Holocaust survivors, I know that anyone calling what's going on in Israel 'genocide' vs. self-defense is either ignorant and shouldn't be commenting or is truly anti-Semitic."
However, Kavanaugh doesn't believe the letter will harm either of the actors' careers as long as their films are box office hits.
As one film producer explained: "I think the thing any executive or producer will try to calculate before working with Penelope Cruz or Javier Bardem in the near future is what their value is in the all-important international marketplace. And what territories they might have alienated people in by what they said. It might not be that many. But it's really all about business."
Other Hollywood big names have waded into the controversy, including comedian Joan Rivers. When quizzed by a TMZ reporter on her thoughts about the 2,000 Palestinians who have so far been killed, she said: "Oh my God! Tell that to the people in Hiroshima.
"Good. Good. When you declare war, you declare war. They started it. We now don't count who's dead. You're dead, you deserve to be dead. Don't you dare make me feel bad about that.
"They were told to get out. They didn't get out. You don't get out, you are an idiot. At least the ones that were killed were the ones with low IQs."
source :YourNewsWire.com