Lord Kerslake to say housing bill will force councils to sell off more than 100,000 homes to subsidise right-to-buy discounts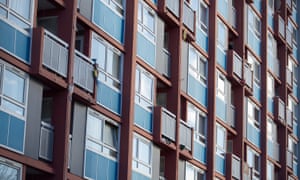 The former head of the civil service will accuse government ministers this week of trying to phase out social housing altogether in favour of a new generation of "starter" homes that will be unaffordable for people on low incomes.
The intervention from Lord Kerslake, who was the most senior Whitehall mandarin until July 2014, will come as opposition and crossbench peers join forces against key aspects of the government's controversial housing and planning bill when it reaches the Lords on Tuesday.
In a further indication that the bill could receive a rough ride, Lord Bassam, Labour's chief whip in the Lords will abandon the normal convention that holders of his office do not enter legislative debates, when he delivers a highly personal speech invoking his childhood experience of being brought up on a council estate in Essex.
The bill, which the Commons passed earlier this month, extends the right to buy to housing associations as part of a voluntary deal with the sector, ends indefinite tenancies in council-owned properties and prioritises the construction of so-called starter homes for first-time buyers. Ministers say it will increase home ownership and house building.
read more at the The Guardian