Top judge says justice system is now unaffordable to most
Lord chief justice says in annual report to parliament that one result is rise in number of litigants unrepresented in court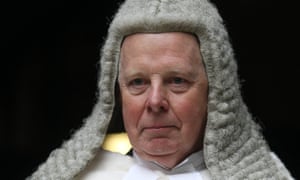 Civil justice is unaffordable for most people, more people are being forced to represent themselves, and judges – whose pensions have been cut – feel underappreciated, according to the lord chief justice.
In his annual report to parliament, Lord Thomas of Cwmgiedd welcomed the government's commitment to spending £780m on modernisation and new technology but delivered a downbeat assessment of the courts in England and Wales.
"Our system of justice has become unaffordable to most," Thomas said in the introduction to his report. "In consequence there has been a considerable increase of litigants in person for whom our current court system is not really designed.
full story at The Guardian