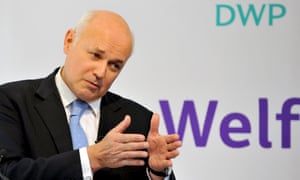 The Department for Work and Pensions has admitted that people will see cash losses to their in-work benefits under the new universal credit system and suggested they could make up for it by working an extra 200 hours a year.
In a new document on universal credit, published after parliament has broken up for Christmas, the department said people could "recoup the loss" caused by lower in-work benefits from April 2016 by taking on an extra three or four hours of work a week at the new "national living wage" of £7.20 an hour.
Iain Duncan Smith, the work and pensions secretary, has repeatedly insisted that people on universal credit will not be worse off because of changes to in-work benefits announced at the summer budget.
He told parliament: "Those who are on universal credit at present will be fully supported through the flexible support fund, which will provide all the resources necessary to ensure that their situation remains exactly the same as it is today."
But the government response to its independent advisers on the Social Security Advisory Committee (pdf) admits people are due to see losses from April.
full article at The Guardian